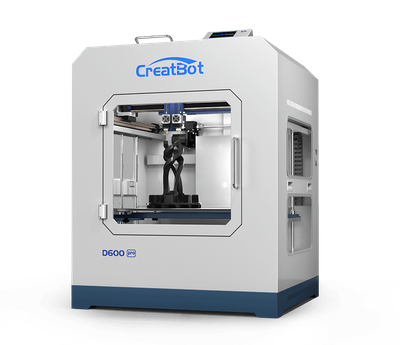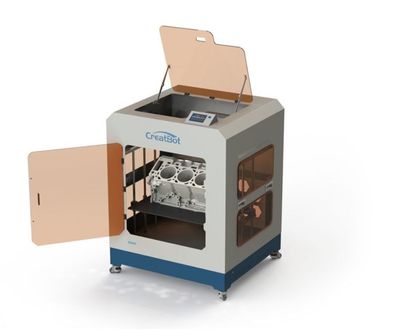 Creatbot D600 PRO high temp, large format 3d printer.
CREATBOT
$22,500.00
THE D600 PRO.
SPECIAL OFFER; BUY A D600 PRO TODAY AND YOU'LL GET INCLUDED 5 ROLLS OF PLA, ABS OR PETG FILAMENT PLUS 5 HIGH QUALITY NOZZLES. JUST LET US KNOW YOUR PREFERRED TYPE OF FILAMENT AND SIZE OF NOZZLE.
LARGE FORMAT PRINTERS WITH THE CAPABILITY OF PRINTING MATERIAL REQUIRING HIGH TEMPS UP TO 400DEG.
CLICK HERE TO VIEW CREATBOTS D600 PRO PRESENTATION WITH VIDEOS OF THESE AMAZING PRINTERS IN ACTION.
Temperature Up to 400°C
We are the first manufacturer to introduce a 400°C ultra-hight temperature nozzle to the market . This kind of nozzle allows you to print with a variety of filaments. And the blue metal cooling sink can efficiently cool down the heatbreak. the nozzle height can also be micro adjusted.


All metal hotend, more durable

400°C High temp printing

Nozzle height adjustable



Direct Head Driving

High Precision
We exclusively researched and developed the extruder feeding system which supports high-speed printing, and accuracy it can reach as high as 0.05mm, it allows extrusion of filament steadily with out blockage.
Precision up to:
0.01mm Speed up to: 200mm/s



Stability
The steel body not only ensures stability when printing but greatly extends the usage period. the optimization and cooperation of the overall structure ensures sustainable and efficient operation. The first batch of CreatBot 3D printers have been working for 5 years and more than 8000 hours.


Huge Build Volume
D600 is a real industrial level 3D printer, it can print largest build volume of 600*600*600mm, 30 times bigger than the ordinary 3D printer on the market.

CreatBot D600 build volume:
600*600*600mm


Fully Enclosed Chamber
The fully enclosed chamber can block all external interference. Also this frame can reduce noises, at the same time to provide constant temperature, so that the model won't deform.


Accurate Linear Guide Rail
The accurate linear rail structure can print models in accuracy high reach to 50 times higher than the other ordinary optical axis printers on the market. This structure offers accurate filament feeding, so that can print large model fast and precisely.




Outage Restored & Filament Detection
The printer will automatically memorize the current position and save the print data, lower the working platform and withdraw filament when the power turns off suddenly.



Efficient Platform
The platform surface is attached with the 3D printing special stickers, and the printer has vertical thermal conductivity so that can support high thermal efficiency. You can set the parameters to turn off the hot bed automatically after the specified number of layers.


Easy Touch Screen
The printer has a 4.3" touch screen, very easy to operate. We also provide One-Key to preheat, print, home as well as other shortcut keys.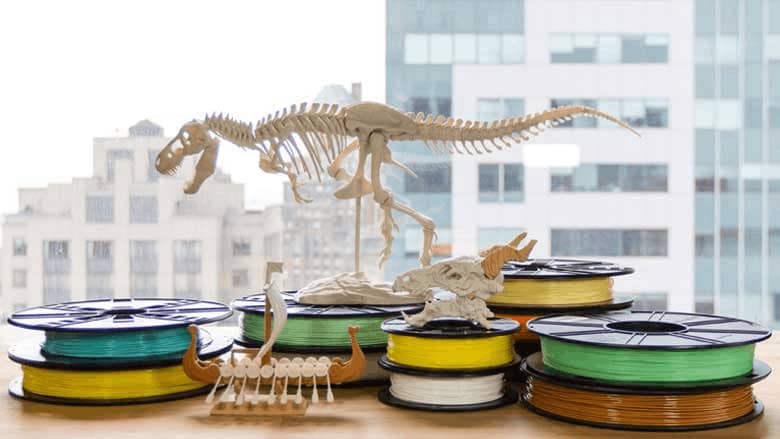 Technical Specs
CreatBot D600
Printing
Print Technolody:
Fused Deposition Modeling
Build Volume:
600*600*600mm
Number of Nozzles:
Double
Resolution:
0.01mm
Layer Resolution:
0.05mm
Filament Diameter:
3.0mm (1.75mm optional)
Filament Compatibility:
PLA, ABS, Carbon Fiber, Wood, Nylon, PC, PTEG, HIPS, PP, Flexible, TPU, PVA, etc.
Nozzle Diameter:
0.4mm (0.3, 0.5, 0.6, 0.8, 1.0mm)
Print File Type:
GCO, GCODE
Temperature
Ambient Operating Temperature:
15-32°C
Max. Nozzle Temperature:
400°C
Max. Bed Temperature:
100°C
Speed
Best Printing speed:
45mm/s
Max. Printing speed:
120mm/s
Max. traveling speed:
200mm/s
Mechanical
Construction:
Powder-Coated Steel, Aluminum Casting for Motion Components, POM
Build Plate:
Microcrystalline Ceramic Panel
Build Plate Leveling:
Factory Leveled, Adjust Manually
Extruder:
Geared motor (1:10 rate)
Stepper Motors:
1.8° Step Angle with 1/16 Micro-stepping
X Y Positioning Precision:
5.08 Microns
Z Positioning Precision:
1.25 Microns
Electrical
Power Requirements:
100-240V, 50-60Hz
Max. Power:
1000W
Screen:
4.3" Touch Screen with Multi-language
Control Chip:
ATmega 2560
Storage Media:
SD Card
Connectivity:
USB
Software
Software Bundle:
CreatWare Multi-language
Supported File Types:
STL, OBJ, AMF
Operating Systems:
Windows (7,8,10)




Mac OS X
Special Function
Outage Restored:
Sava data when power is off
Filament Detection:
Pause printing when filament run out
Automatic Shut-down:
Turn off the power automatically when printing is complete
Size & Weight
Product Dimensions & Weight:
915*845*1085mm 125Kg
Packing Size & Weight:
1000*1030*1360mm 190Kg (Pallet)
ALL ORDERS FOR THIS PRINTER ARE BEING SHIPPED FROM THE CREATBOT FACTORY IN CHINA.

SKU: 10056-1