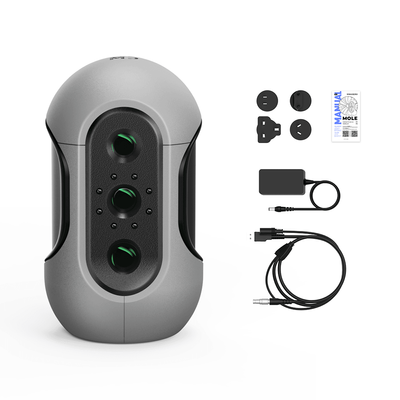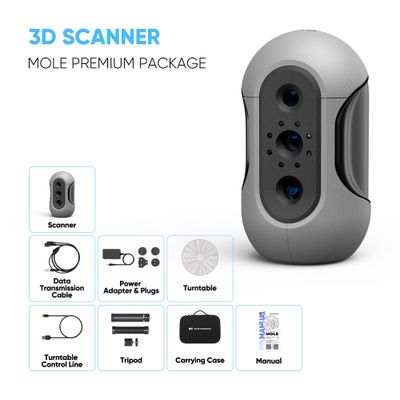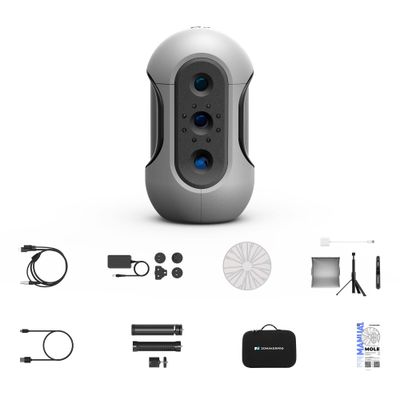 3DMAKERPRO MOLE 3D SCANNER
3D MAKERPRO
$789.00
The Mole 3d scanner features high precision, 3D scanning objects with an accuracy of up to 0.05mm to capture the finest details. With a single capture range of 200*100mm and a scanning speed of up to 10FPS, it can quickly scan a medium-sized object. All of this can be output in the most widely used 3D file formats OBJ/STL/PLY, supporting immediate application or further creativity.
Near Infrared (NIR) has excellent optical compatibility, so even black objects are clearly visible. Mole now includes NIR in its configuration list, enabling it to produce excellent scanning results for objects of different colours.
Optical anti-shake modules and visual tracking algorithms ensure you get a complete and accurate model with every scan.
Using visual tracking technology and our self-developed AI algorithm, Mole enables markerless scanning, saving you significant time.

Mole's compact and ergonomic design makes scanning effortless, whether in handheld or turntable mode. Its internal cooling fan operates quietly yet significantly reduces the temperature, ensuring that Mole can operate for extended periods of time.

Introducing 3DMakerpro Connect, which is designed for portable and stable scanning actions. Enjoy the freedom of scanning with zero limit, wherever and whenever you want.
Tips: Connect requires a power bank with a 12V PD 22.5W type C interface.
3DMakerpro Connet quickly connects Mole, tripod, phone, and power supply, ready to go anytime.

The 3DMakerpro Connect image processing chip connects the Mole to your mobile phone, ensuring high quality scans even when scanning outdoors.

Accuracy: 0.05mm
Resolution: 0.1mm
Image Capture Range: 200×100mm
Frame Rate: 10 fps
Light Source: LED & NIR
Size: 141×80×80m
Weight: 390
SHIPPED FROM THE WAREHOUSE IN CHINA.
SKU: 10000-105